This site provides information on building a house in Pattaya, Thailand and Thailand in general. How to go about getting a nice luxury house built for under $25,000 (1,000,000 Baht)? If you think a sales pitch is brewing.... don't worry, no hidden advertising 'sort you out mate' hard sell. The only thing requested is feedback after you review the site.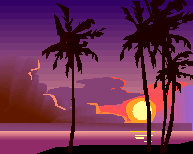 Think of it: living in style in a tropical paradise! Thailand is a wonderful place, until you try to get something done! OK, maybe it is still a wonderful place, but things can get frustrating at times. Anyway, from the stories with my friends to my own personal experience the saying that fits is 'If I only knew then what I know now!'. This article is continued here!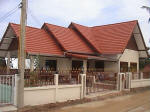 The original cool thai house prototype project (officially completed as of the beginning of August, 2004). See the interesting history of the building of this house. This is a chronology of the building, check it out if you are involved in a similar project. There is all kinds of neat stuff on the cool shots page. The building of the house is shown blow by blow separated into sections. Each section details a particular component involved in building the house, for example, roofing, bathrooms, kitchens, perimeter wall, water systems, concrete pours, etc. Things that went great, not so great and just plain ugly, all here -- along with things that I would do differently next time around.
not BRAND NEW Ms. Dozer's corner! Some selected Ms. Dozer projects that we have done since the original Coolthaihouse project. Check out the current and past construction projects that have been posted at the corner which might contain some helpful information you can use on your project! There are always more very helpful photo galleries here at the Member's gallerys. With building often a picture is worth a thousand words!

Tell your story. Send me the details of your Thai house building or construction project and I'll put it on this site. Not only will it be kind of cool to see your story out there, it will help others along the way. Include pictures also if you've got em! Post your feedback to the forum here or if you want me to check it out first, send it here:Feedback .
Hints on using the web site: Glad you arrived here. There are 4 main sections to the site, the main site, the forum, the blog and a new photo gallery under development. For the main site, a picture chronology of the original coolthaihouse project is here. Info on building in Thailand is here. Various articles are here. The most active part of the site is the forum, where you can get your question about building in Thailand answered.